Oct
15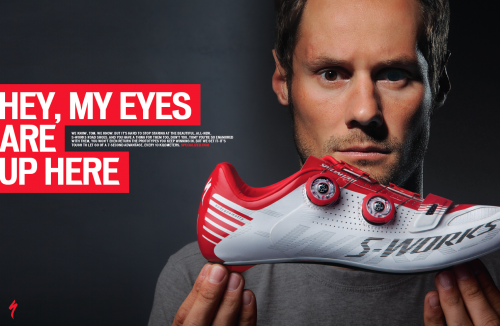 Print ad for the S-Works Road Shoe, featuring World Champion and 4-time Paris-Roubaix winner, Tom Boonen.
May
16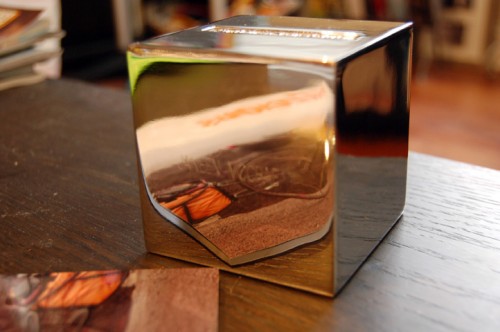 It's nice to get some recognition for Breakfast NY and quite frankly, for myself. Yes, I am Precious won a Silver Cube for Interactive at the ADC awards and as the copywriter, I got mah mitts on one. Read about the project here. Buy me a beer here (which would link to any pub near us both if it were linked.)
Congrats to Zolty and the team at Breakfast. And here is a gratuitous picture of Precious smelling the glove cube.
I should probably also mention YIAP was selected for the CommArts Interactive Annual 2011. Boy is gettin' some play.
Jan
21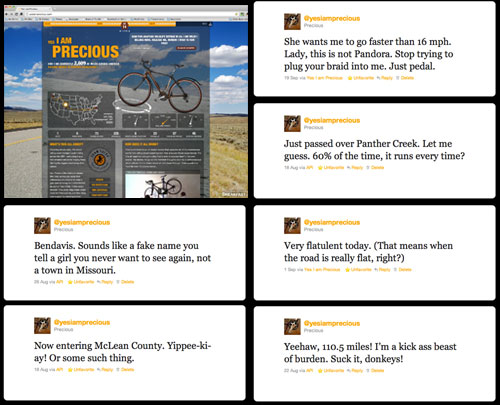 YESIAMPRECIOUS.COM was conceived by BREAKFAST NY as a way to follow Precious the bike as he traveled across the USA in 2010. They built Precious a real brain, and while I wasn't involved in the concepting or design of the site, my job was to fill that brain with the thoughts (above) that ended up on Twitter. Actually, if you think about it, I really powered the site. Literally! With my damn legs! HA!
This project did what I think any good digital project should do for any brand – tell a rich and compelling story. I essentially wanted to tell the story of my trip through my own blog and twitter, but then have Precious give a different POV and experience of that story. BREAKFAST sure took care of that wish. At the same time, we wanted to raise some dough for LIVESTRONG along the way, and that worked out pretty well.
Brief summary of the pieces and my involvement:
THE BRAIN/SITE
The brain, inside a box that sat in a bag under the bike seat, was loaded with bunch of sensors. These sensors measured things like temperature, speed, gradient, location and heading. All of this data formed the basis for readings on the site, while certain manual things would be 'pinged' in by me as I saw them (roadkill is a good example). I would also upload a new photo from the road every day to keep the background fresh and the site looking awesome. If you want to know how the brain worked, there's a case study by BREAKFAST, and I also made an 'on the road' video talking about how it worked and what I did every day.
When certain criteria were met – a certain temperature, a GPS position – the system would would reach deep into the brain, find a thought that matched that criteria and send it out to all Precious's followers on Twitter. I wrote all those tweets well in advance (examples above), and created the personality of Precious (more examples here). In essence, I was the copywriter and brand manager. :)
THE CAUSE
The site provided a direct link to donate. Milestones were also set up in the system to send out donation-based tweets when certain financial goals were met, as a way to encourage followers to get involved. During the course of the ride, Precious raised over $7,500 for LIVESTRONG and also got a shoutout from Lance on Twitter. Not too shabby. (It should be noted that this was a PERSONAL project on behalf of LIVESTRONG. They didn't have anything to do with it, beyond Lance giving it a tweet after it was live.)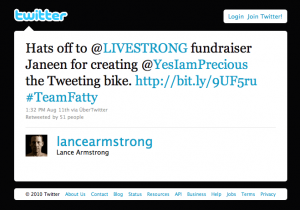 THE OTHER STUFF
Precious has essentially become a brand in his own right. As part of my Kickstarter Project, I made a 'book of Precious' for backers. The "Yes, I am Precious" book is now available to buy for anyone who became a fan of Precious during the trip, either on Twitter or on his Facebook page. He still tweets – mostly about how I don't take him out of the house very much.
This is the book below. Buy it!
FREE FLAT RATE SHIPPING offer codes (expire Jan. 31, 2011)
US – SHARE
GBP – SHAREUK
EUR – SHAREEUR
CAD – SHARECAD
AUD – SHAREAUD
Sep
1
Probably an odd thing to include, but here a side project that is kind of related. In one of those 'know someone who knows someone' moments, I ended up shooting the bike footage that was projected at the end of the catwalk at Betsey's fashion week show. It's also currently being used in her stores. Used a GoPro HD video camera strapped to my chest to shoot key NY scenes, such as Brooklyn Bridge, Times Square, and Central Park.
Jun
23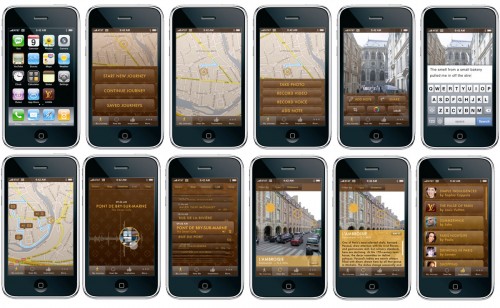 Everyone's journey is a personal experience. The memories created, the emotions experienced, the visceral reactions of you to your journey are your own. The LV City Guides guide your journey, but they cannot experience it for you. That's where AMBLE comes in, giving you the power to overlay your personal memory and experience to the places you visit. Where the guide leaves off – recommending restaurant for example – you can pick up and add comments, images, emotions and data to create a digital memory of your experience.
Mar
23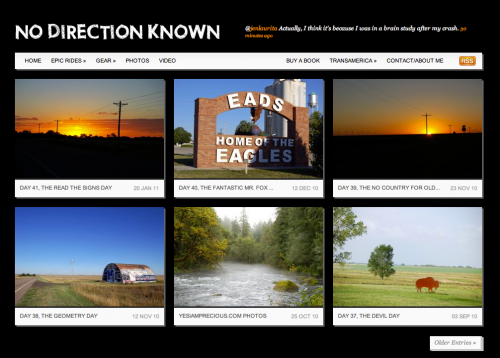 No Direction Known is currently my primary place of writing residence in terms of book writing. Set up to cater to my love of cycling, but ultimately to publish the journey of my ride across America. The entries here are, in a sense, the first draft of the book. There are very few 'short reads' here.
Feb
10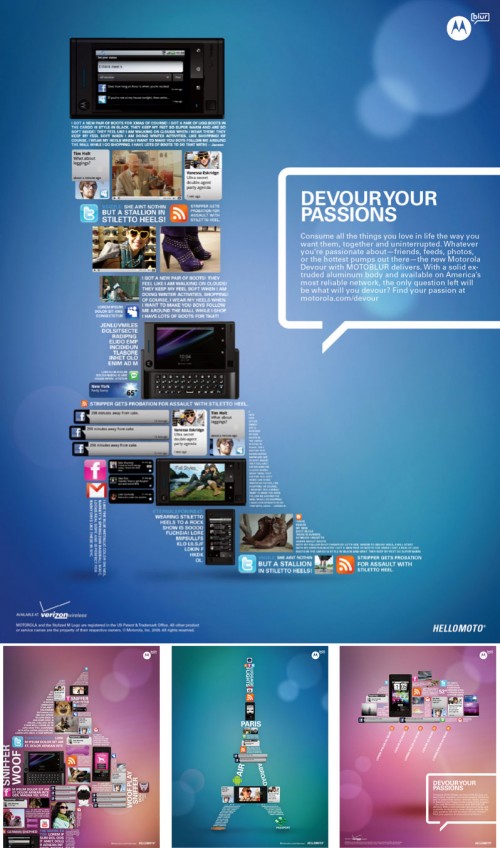 "Devour" was to be the first phone out there with the new MOTOBLUR. This concept fought it's way through many a round, then was being considered for something grander. Alas, time ticked on and it ended up crushed in the vise of inaction. Shame, I think it would have been fun to play with online.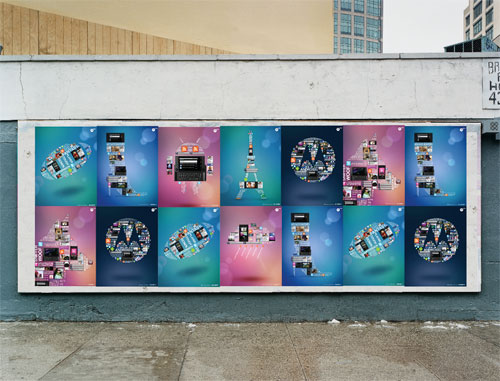 Feb
9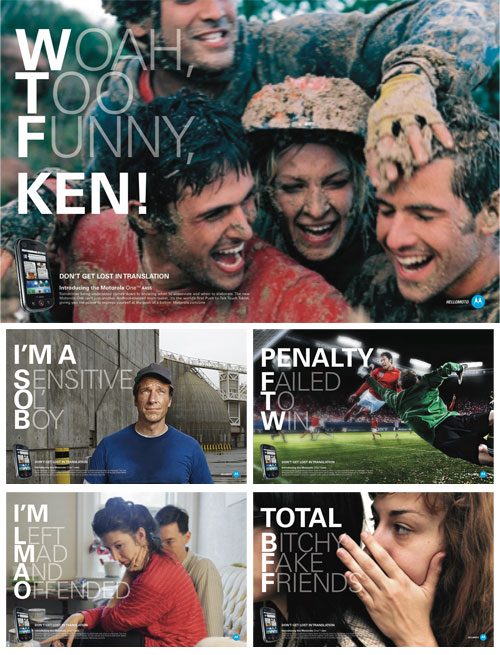 Right concept, wrong phone. Posted for my own amusement. :)
Feb
2
"My Best Khaki Pants" Kickstarter Project from Noodle on Vimeo.
It's been a while since I updated my portfolio, and I do have some work for Motorola and Louis Vuitton to put up, but my life is also pretty consumed these days with planning a big adventure in my life. Starting in May, I'm going to be riding my bicycle across these great United States. This is actually going to be quite an experience for us all – I'm working out ways to digitally broadcast parts of the trip (although not live), and include people in the day-to-day in as many ways as possible. The first step in that process is the Kickstarter project "My Best Khaki Pants – a mini book". Benefactors unite!
It's an interesting experiment actually. Now I'm the product. The brand. How do I approach my own campaign? I'll be trying a lot of things these next couple of months, and in particular, honing my quick video update process for when I'm out on the road. Feel free to back the project (there are exclusive 'backer only' updates), or just follow along with the planning updates at No Direction Known.
Hold on everyone. This is gonna be a ride.
Dec
24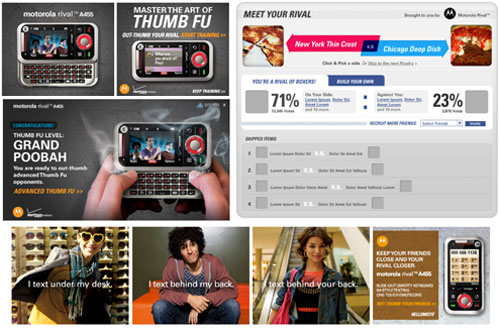 A simple phone for texting fiends, aimed squarely at young folk. While AKQA created a video ThumbFu so people could test their texting prowess against expert texters, we handled the supporting banners and social media that would drive people to take part. These kids text fast about all sorts of things, so ideas played off the ability to text like a speed demon (a beat-the-banner execution), but also this idea of oneupmanship (text banners) and declaring yourself a rival of your friends in some way (Facebook app). The facebook rivalry app allowed people to add their rivalries and get friends to declare where they stood on them – Boston vs. New York, boxers vs. briefs – anything was fair game.