Nov
9
Ah, my first taste of sub-editor rage (me at them, not reversed). A hard lesson in having a word that I'd specifically made up 'corrected' during the edit. I was kinda upset, but looking back now it seems a bit trivial. The dirt 'clumpy' down. Not clumping. It was a sound in my ear and imagination. Live and, well, not learn. I still make up words.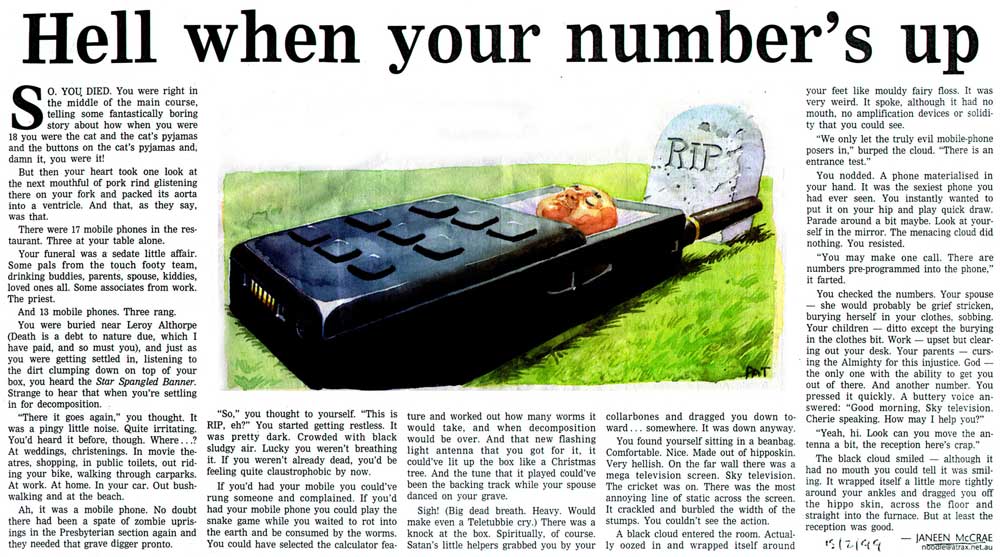 Nov
8
This one was born a short while after building my first PC from scratch. It was an exciting time for me – working out that although I had a very small degree of geekishness in me, it was enough to build a computer. To hear the word 'packet' and actually know what it meant. Bliss.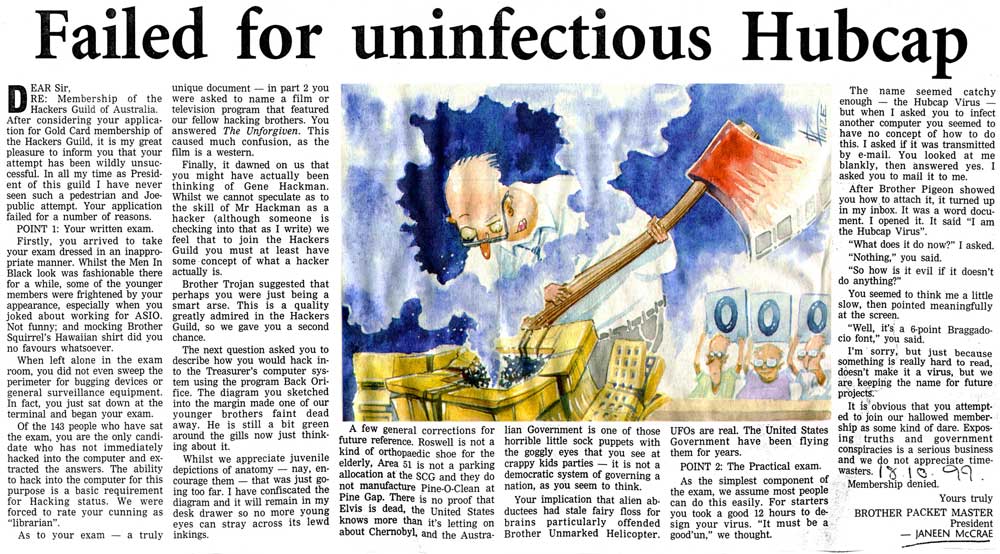 Nov
7
This was an exciting time for me. My editor (the Science and Tech ed), gave me random space, just to write about something technological.
"Do whatever you want," he said.
I had no idea what he meant exactly, so I just wrote some fluff about Bill Gates. That started the tradition of giving me rave space in his pages from time-t0-time. I owe a lot to the running room he gave me.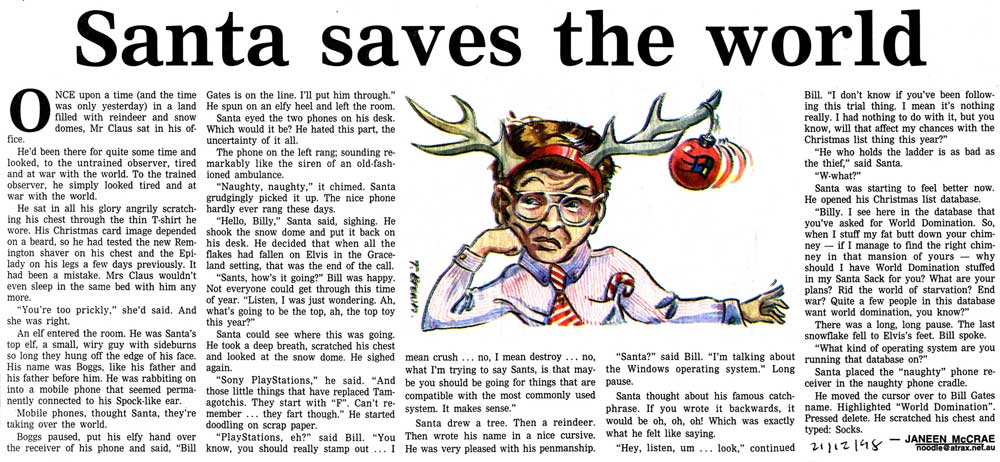 Nov
6
For some reason, I became the kid who always interviewed the bug people. This is just one of those times.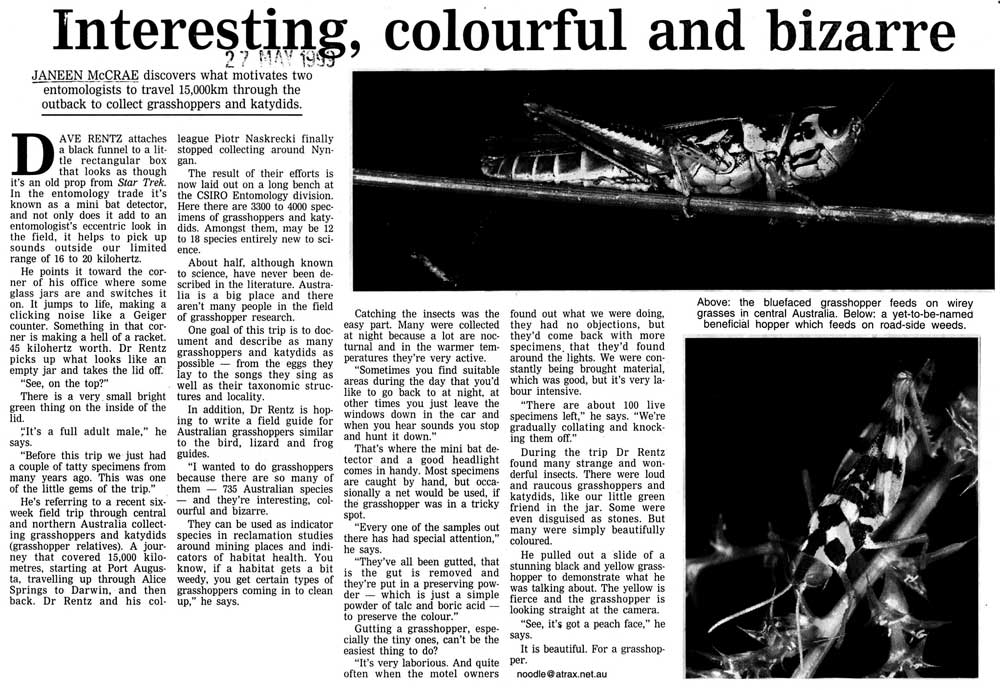 Nov
5
The "From the John" weekly column (named because they always revolved around science research stories coming from the John Curtin School of Medical Research), was my first foray into getting out in the world and talking to sciencey types. Being a shy person, these kinds of assignments were kind of difficult back then,. But I found my stupid curiousity for finding out the 'wtf? how does that work?' angle to the story always dragged me beyond my stumbling inadequacies. A curious mind. Dangerous!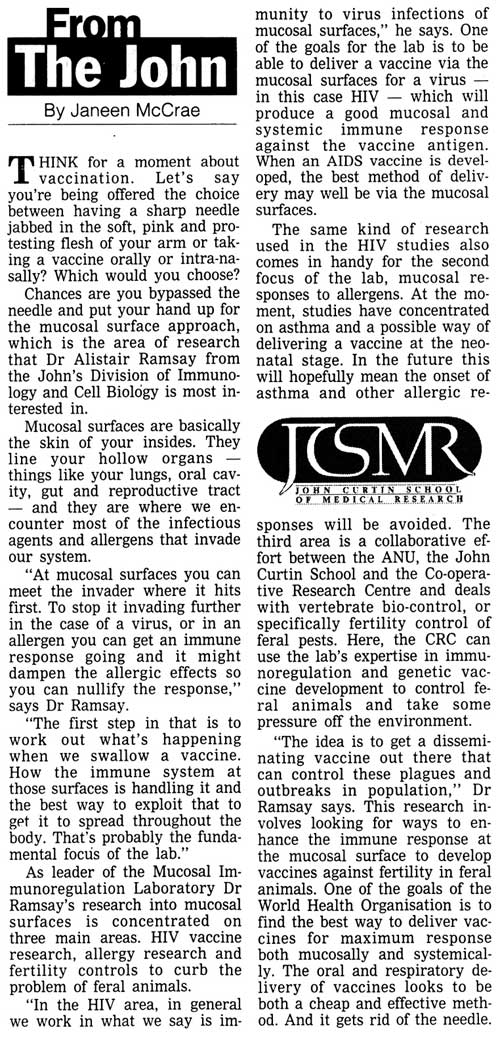 Nov
4
Many people ask me where I the nickname 'Noodle' came from. It's such a boring story. I never tell it – never. All you need to know is that the name caught on, and I ended up writing a column for the paper that was all about the crap you find on the net. I don't even remember pitching it as an idea, but I know my editor at the time suggested the column name. When I left, Noodle-Net lived on for another year, with a new "Noodle" behind the helm.
I was really green when I was writing this stuff, but in awe of the crap that was out there.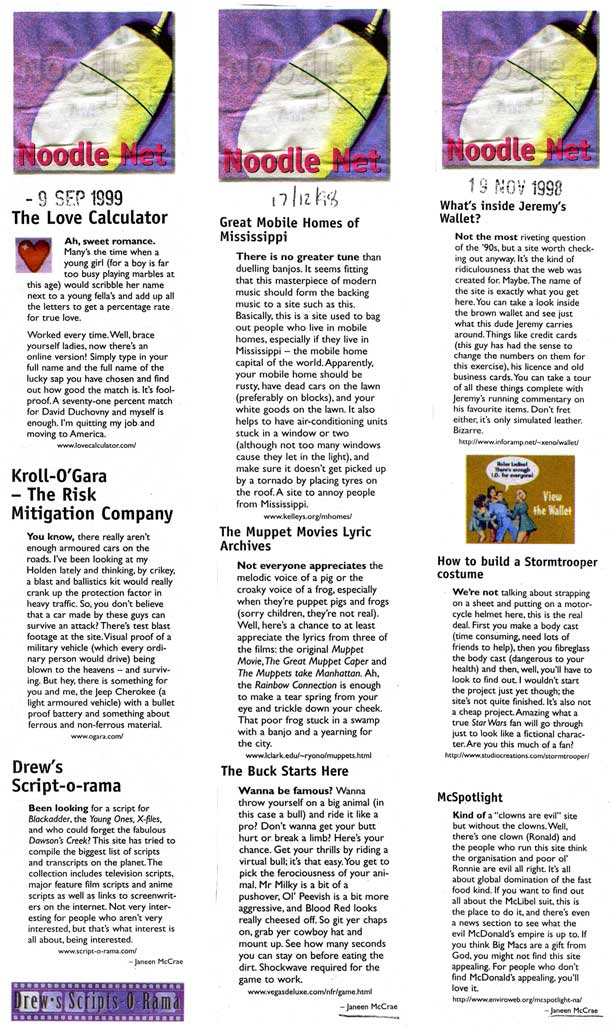 Nov
3
Oh crap, planes are gonna fall out of the sky! The world is gonna end! Well, everyone thought it was going to.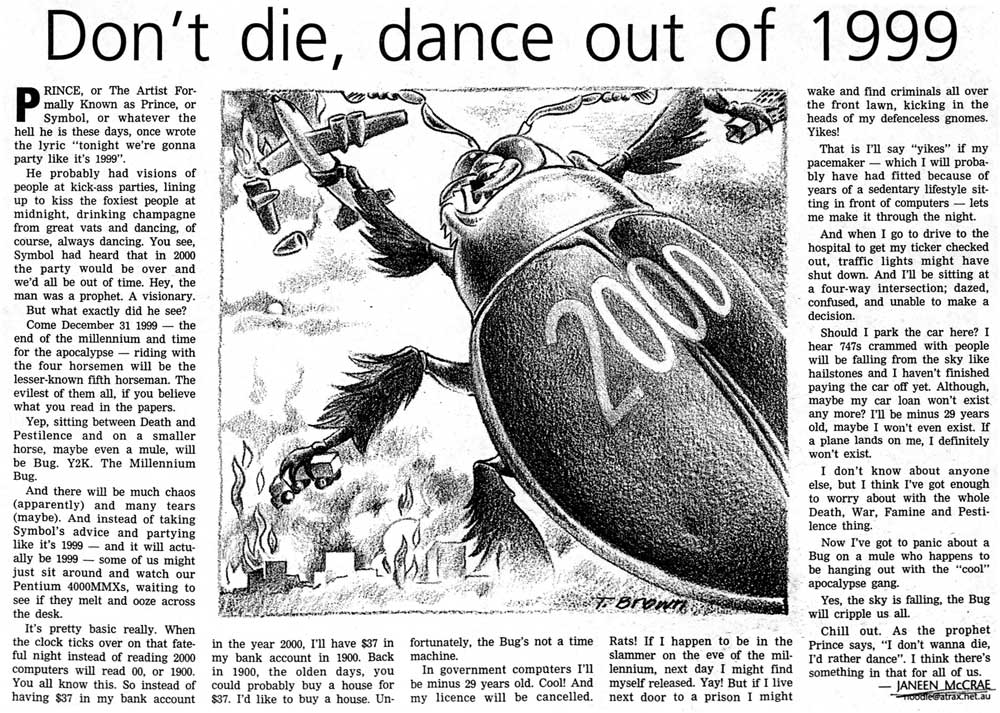 Nov
2
I went through a stage of watching a lot of TV in bed. No laptop in my life back then – but it got me thinking about stupid little inventions that would never be made, due to impracticality. The kind of inventions you know you're gonna find in a patents office if you go and have a squiz.
Nov
1
A Very Brady Sequel. The first movie review to get me banned from a movie cinema. You can tell I'm in the early stages of a writing career here. Genuinely appalled at the movie, but trying to be a smart arse with the review.