Dec
14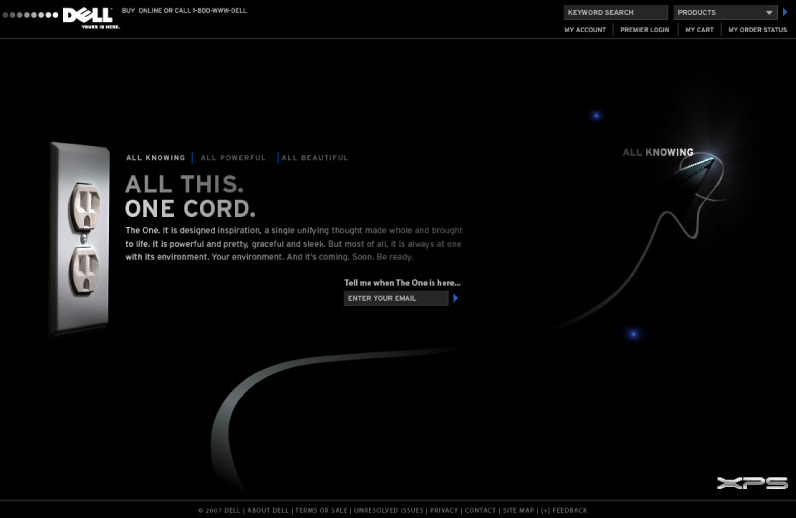 Dell is marching on with new product designs. Designs to help make them players in the style space. Here's a nice assignment – create a teaser for Dell's first All-in-One. Mr. Zolty and I set out to do just that. Although this concept and execution was greatly loved by us and the client, it was ultimately killed. But still, I choose to show you the glowing embers of its joy, including some banner options.
Just to give a sense of what the movement was going to be like on the homepage, we got Caius Wong to knock us out a motion study.

Motion Study from Noodle on Vimeo.
Dec
13
Designed to bet the ying to Mother's print yang, this site sadly never saw the light of day. At the top, we see the landing page state. Once you interact, the site spins to show you what's goin' on inside – not just the computer, but how playing on the Dell affects you physically. On the bottom right, an example of one of the banners to drive to the site.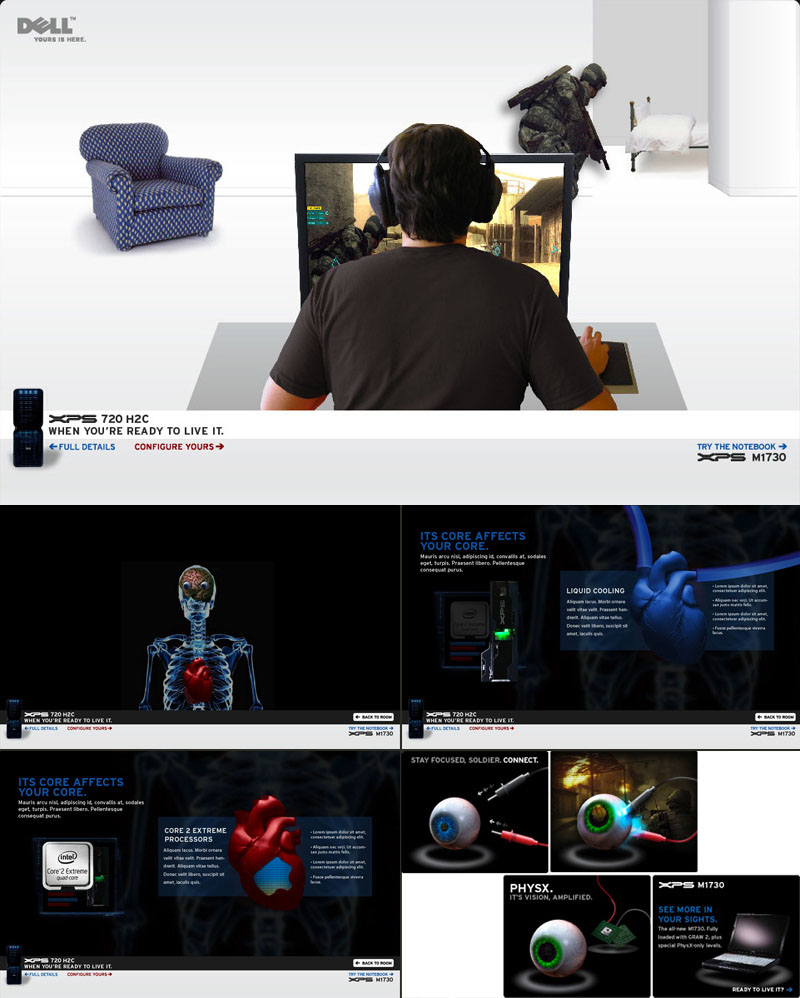 Dec
11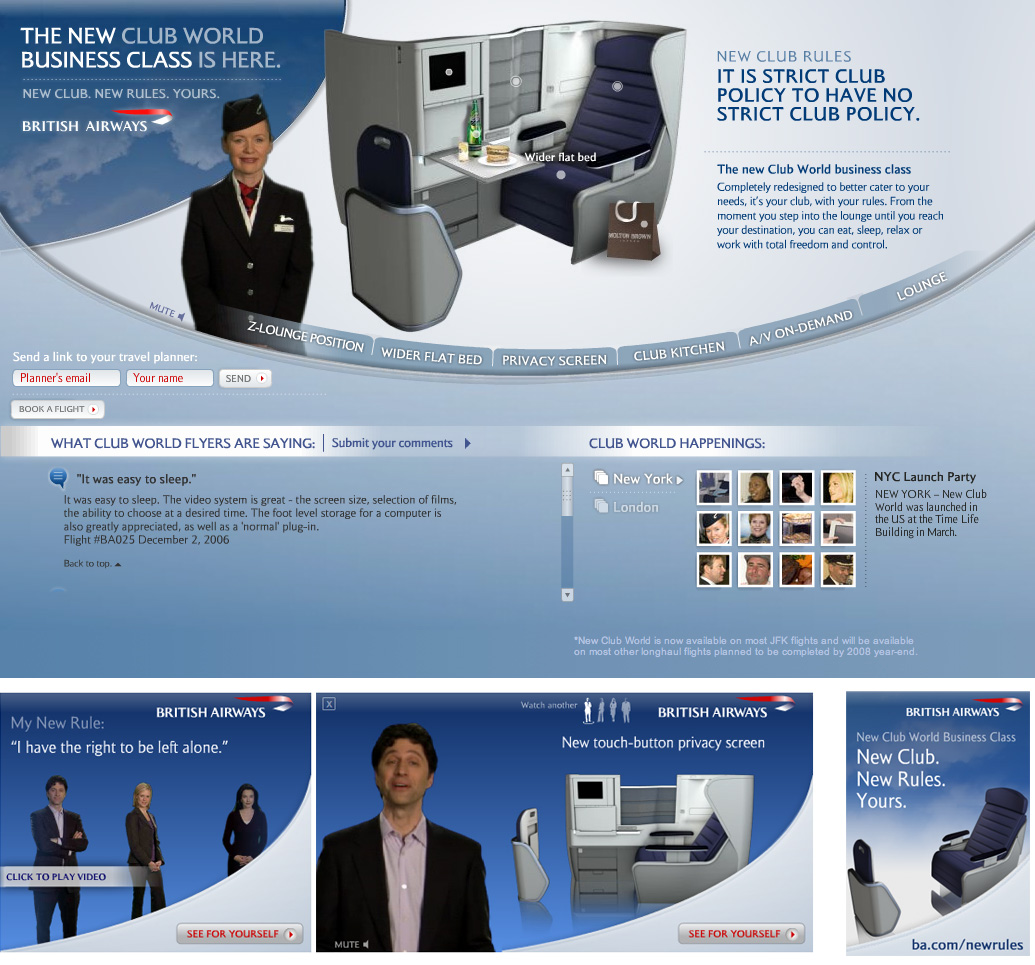 Campaign to support the launch of British Airways new Club World. We took the offline agency's concept and gave it digital legs with a microsite, banners, captivate units, and launch event support with touchscreen displays.
ACD: Janeen McCrae
Concept team: Adam Romero (AD), Matt Carlin (Copywriter)
Design: Adam Romero/Krystle Mobayeni
Awards:
2007 Web Marketing Association Web Awards
Winner Outstanding Website – British Airways: New Club Rules
2007 Summit International Awards: Marketing Effectiveness Awards
British Airways: New Club Rules – Consumer Service Single Entry – Winner
Dec
11
I was present only for the first course of this project – an extension of a lot of the ideas we'd come up with for the pitch made real. Working with Zolty (again) and an IA, we sat down and fleshed out the idea of building a better way to view Dyson products. Andrew went on to execute the vision, along with a supporting online campaign.
Although the site is still live, it's been fiddled with since handoff. But the guts are still there.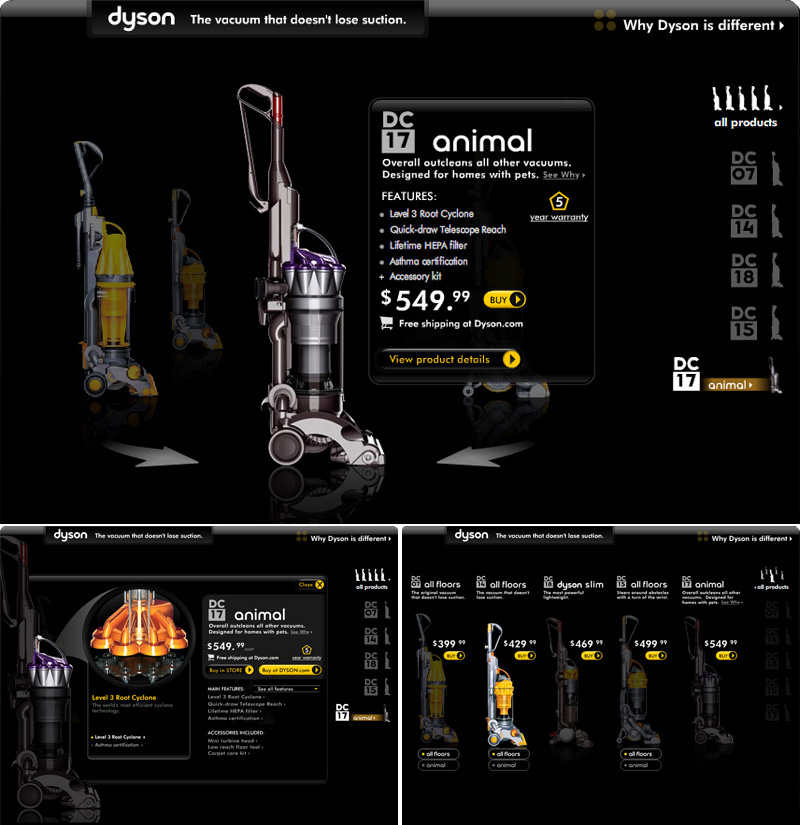 Design and production: Andrew Zolty, Andrew Hess, Mike Fazio
CD: Carla Echavarria
Dec
10
Don'tread.org was an idea first sparked in the mind of Andrew Zolty, and became the focal point for execution of this idea. Layer on the Listening Saves condiment and you've got a campaign on your hands. It really was an idea everyone could sink their teeth into, and I found myself doing voiceovers, writing a bunch of fun stuff, and wearing a frog suit, all in the name of advertising.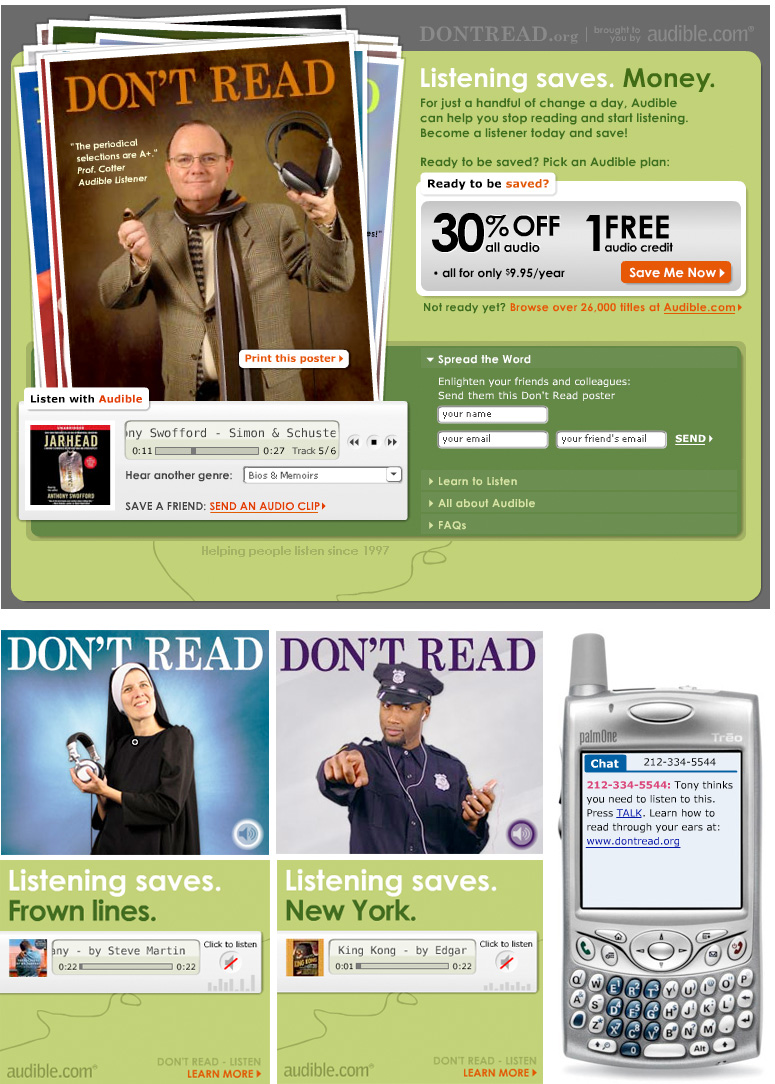 Dec
10
The idea was simple. Don't just create a sweepstakes entry, pose a question that builds excitement about actually entering. And not just entering once, but multiple times. The Choice wishing well asked people to write their million dollar dreams on a coin and throw it in the fountain. Although not an essential element of entering, we found people coming back day after day, to enter the exact same wish. As though the fountain held some kind of mystical power.
We also created a rock solid profanity filter for this project – and then found out that people really aren't as profane as we predict them to be.
See the banner, which spawned the landing page after they "threw" the coin.
ACD/Copywriter: Janeen McCrae
Art Director/Flash: Andrew Zolty
Designer/Flash: Krystle Mobayeni
Designer: Steve Basin
Awards:
Horizon Interactive Awards 2007
Choice Hotels 'Key to a Million Sweepstakes' – Banner/Email Ad Campaign: Bronze
MIXX Awards 2007
Direct Response and Lead Generation – Finalist
Dec
9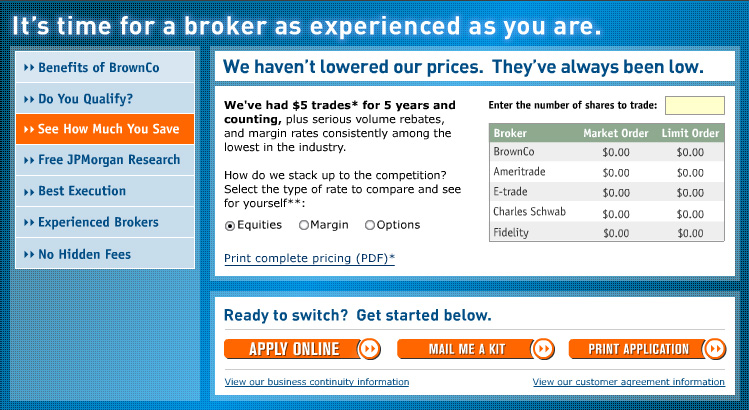 Working this time with J.L. the AD, we created a microsite that explained all the reasons a personal investor might want to switch their broker to BrownCo (which was eventually bought by eTrade). It did an awesome job in converting leads into actual account holders, but of course I can't remember the staggering conversion rate, which would make this story all the more compelling. View the banners, or see the microsite in action.
Dec
8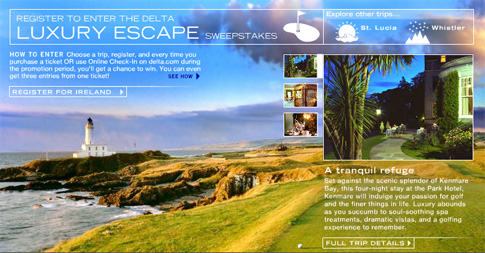 Microsite for a simple sweepstakes, but one that required a person to choose the prize they'd like to win before entering.
Nov
10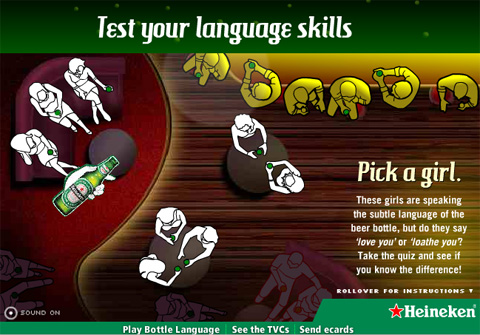 Freelancing with XM in Singapore, I came in post-concept phase to add some secret copy sauce to the mix. The concept was simple – enter a virtual Heineken bar, chat up a girl and guess what she's thinking based on how she's holding her Heineken bottle. In this way, our "highly social adult males" would learn the subtleties of Bottle Language.
Although this was years ago, I still like to include it just because it was a copy exercise that I had a lot of fun with. :)
Nov
10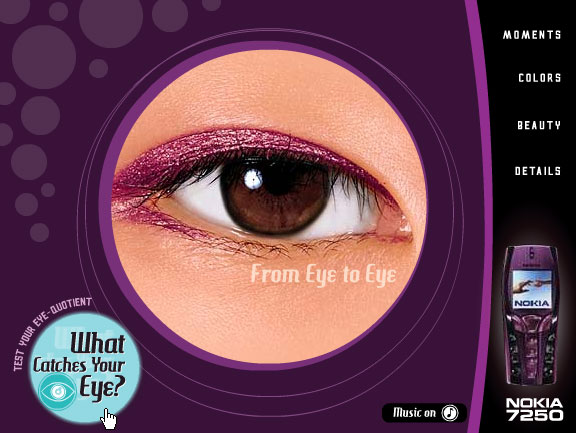 One of two freelance projects done for CCG.XM in Singapore for Nokia. This one is pure copywriting, with a goal of making the design of the phone feel stylish and modern while also making people lust after it. The microsite included a quick test called "What catches your Eye" to help reveal what your style sense says about you.