Jun
23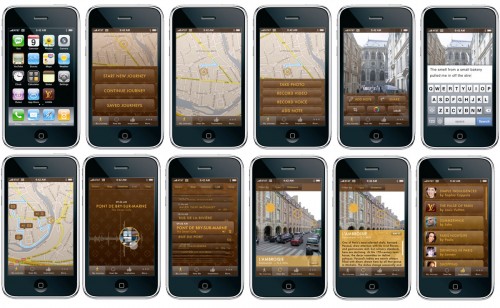 Everyone's journey is a personal experience. The memories created, the emotions experienced, the visceral reactions of you to your journey are your own. The LV City Guides guide your journey, but they cannot experience it for you. That's where AMBLE comes in, giving you the power to overlay your personal memory and experience to the places you visit. Where the guide leaves off – recommending restaurant for example – you can pick up and add comments, images, emotions and data to create a digital memory of your experience.
Feb
10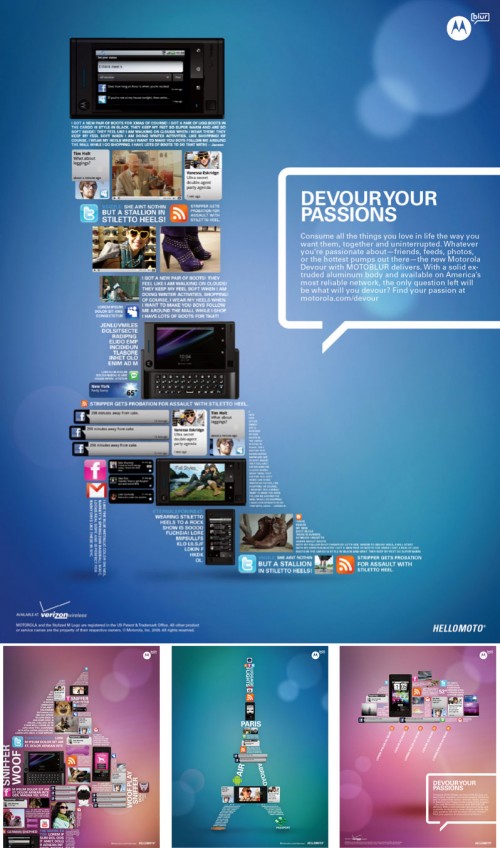 "Devour" was to be the first phone out there with the new MOTOBLUR. This concept fought it's way through many a round, then was being considered for something grander. Alas, time ticked on and it ended up crushed in the vise of inaction. Shame, I think it would have been fun to play with online.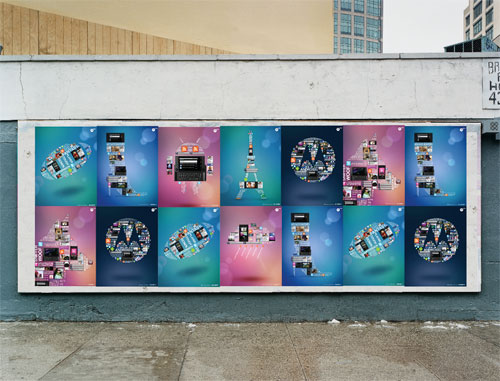 Dec
24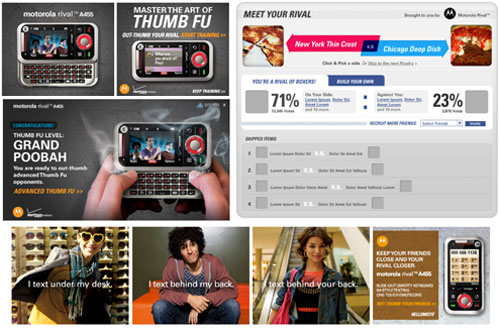 A simple phone for texting fiends, aimed squarely at young folk. While AKQA created a video ThumbFu so people could test their texting prowess against expert texters, we handled the supporting banners and social media that would drive people to take part. These kids text fast about all sorts of things, so ideas played off the ability to text like a speed demon (a beat-the-banner execution), but also this idea of oneupmanship (text banners) and declaring yourself a rival of your friends in some way (Facebook app). The facebook rivalry app allowed people to add their rivalries and get friends to declare where they stood on them – Boston vs. New York, boxers vs. briefs – anything was fair game.
Sep
3
From a series of webisodes introducing the new Cranberry Raisinet. The copywriting was split between myself and Matt Christiansen at Ogilvy. This first episode is primarily me – but Matt added a gem of a line about Cran hitting the chocolate "haard". Oh, yeah she does.
Episodes as they are released will appear here.
Dec
30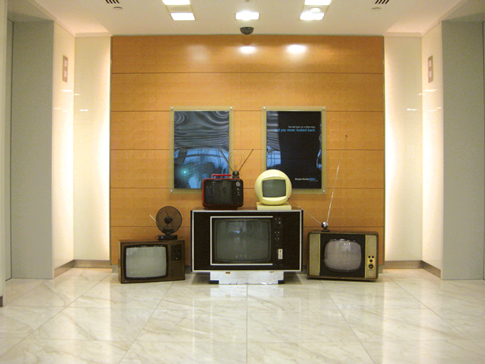 Lately, I've been working on a project for a financial client in London. It's been great working on the launch of – let's just call it "The Thing I Can't Name" – from the get go. From the very germination of the brand, to thinking about how it will launch internally (they need their own people to use this thing), and externally to the world. This work was the internal teaser, created by Zolty and myself before he so rudely moved to London.
We wanted people to get excited about "The Thing I Can't Name", so we put several of the above installations in the elevator lobbies on each floor of their corporate headquarters. Each installation demonstrates the idea of product evolution – of how you never look back at the thing that is replaced – and included a matching copy line that helped drive home the idea.
See pics of all installations here.

At the same time, throughout the offices we continued the theme with posters sans installations. Click through to see a bunch of featured copy lines here.
The external launch is not due until February/March 09, which is when I'll remove all this cloak and dagger stuff.
UPDATED: It was for Morgan Stanley. Product called Matrix for internal broker use.
Nov
10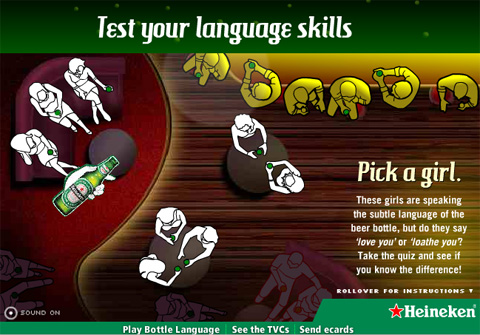 Freelancing with XM in Singapore, I came in post-concept phase to add some secret copy sauce to the mix. The concept was simple – enter a virtual Heineken bar, chat up a girl and guess what she's thinking based on how she's holding her Heineken bottle. In this way, our "highly social adult males" would learn the subtleties of Bottle Language.
Although this was years ago, I still like to include it just because it was a copy exercise that I had a lot of fun with. :)
Nov
10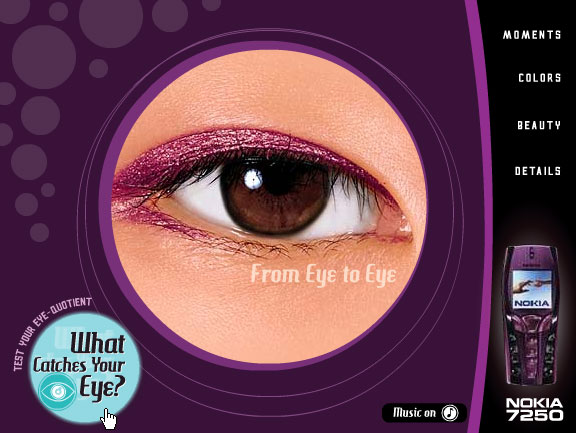 One of two freelance projects done for CCG.XM in Singapore for Nokia. This one is pure copywriting, with a goal of making the design of the phone feel stylish and modern while also making people lust after it. The microsite included a quick test called "What catches your Eye" to help reveal what your style sense says about you.