Mar
23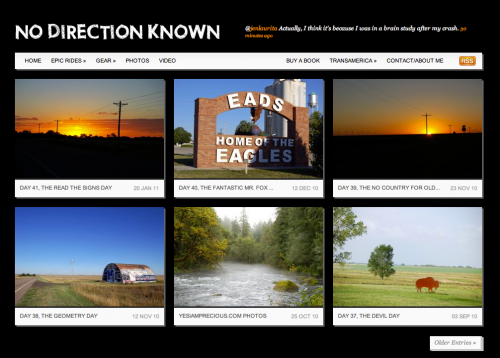 No Direction Known is currently my primary place of writing residence in terms of book writing. Set up to cater to my love of cycling, but ultimately to publish the journey of my ride across America. The entries here are, in a sense, the first draft of the book. There are very few 'short reads' here.
Dec
29
When you work in advertising, or any creative field for that matter, your creative powers are greatly influenced by what you do outside of work. You need to create stuff for yourself, then put it out there. Set and forget. That's why I write the SHNoos, and why I made the following video.
I am not a professional (as the sound quality of my voice over will demonstrate), but I think it showcases something that has influenced me lately. For your viewing and listening pleasure, please enjoy Zephyr, the movie.
Dec
13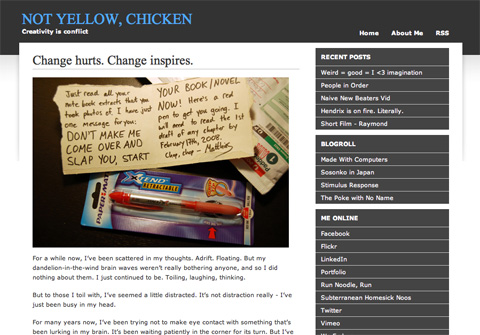 Introducing, my new blog. I started this one simply because leaving POKE is going to leave a huge blogging hole in my heart. Not Yellow, Chicken is a place for creativity and all things that inspire, be that digital, art, photography, animation, technology or just something cool.
It's also a place where I'll hopefully give updates on the progress of my novel and other random creative projects I'm planning.
Dec
12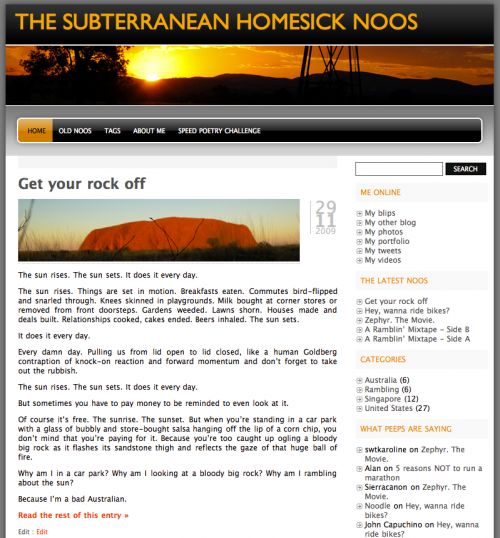 "What are you doing these days? Where are you? Why do you never write?"
I created the Noos as the lazy girl's way of answering questions like that with one link. Sadly, the SHNoos is suffering from neglect since No Direction Known started.